Extra Cheese, Please!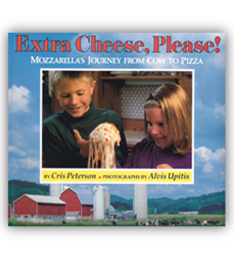 Extra Cheese, Please!
Winner of the 1995 Ohio Farm Bureau Federation Women's Award for Children's Literature
When Cris' cow Annabelle gives birth to a calf, an amazing process begins. Now Annabelle can produce milk – about 40,000 glasses of milk each year, or enough cheese to top 1,800 pizzas.
Alvis Upitis' sparkling photographs document the cheese-making process – starting on the farm where Annabelle's calf is born and milking begins, then moving to the cheese-making plant where the milk is heated and cooled, stirred and swirled, thickened, drained and sliced – and finally packaged for stores.
Cris' personal and informative text explains the process in a simple and engaging manner. Alvis Upitis' photographs capture moments on the farm with the cows and the calves and reveal an inside view of the cheese-making process. A wonderful collaboration – concluding with the author's own recipe for pizza.